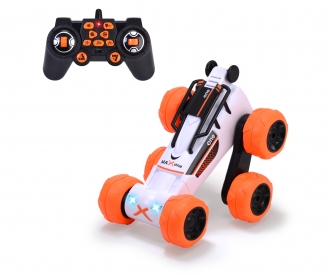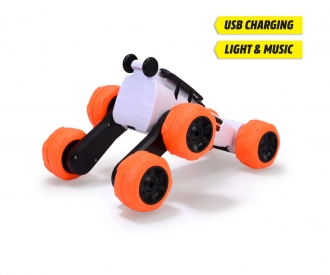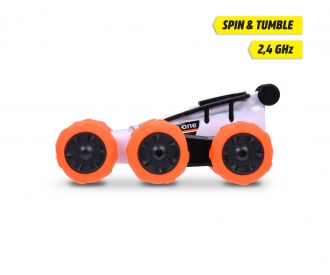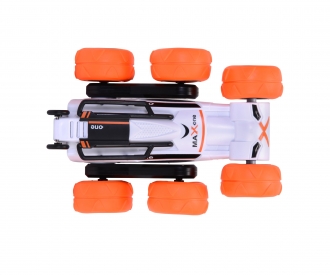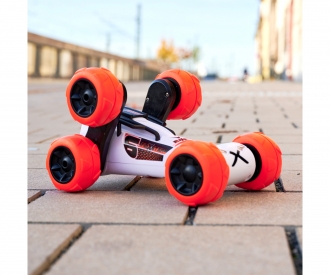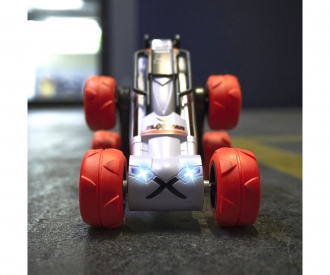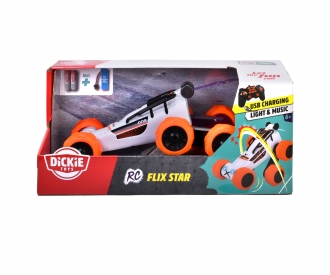 https://video.simba-dickie.com/embed/de/dickie_73/?autoplay=1&quality=720p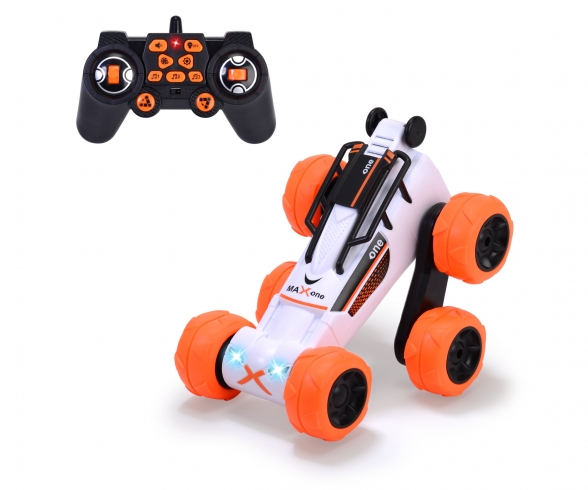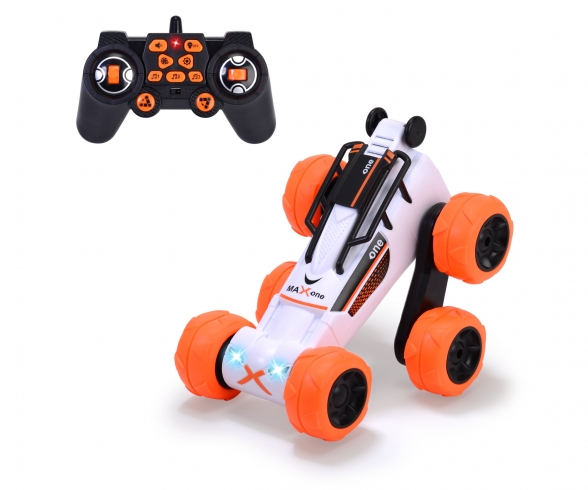 Quantity:
1
2
3
4
5
6
7
8
9
10
11
12
13
14
15
16
17
18
19
20
21
22
23
24
25
26
27
28
29
30
Delivery time 1-3 working days within Germany
Product information
Dickie Toys – RC Flix Star – ferngesteuertes Stuntauto, 3-Kanal-FS für Tricks & Überschläge, Transformation von 4 zu 6 Rädern, für Jungen und Mädchen ab 6 Jahren
Dickie Toys RC Flix Star – verrückte Transformationen auf 4 oder 6 Rädern!
Die intuitive 3-Kanal-Funkfernsteuerung mit 2,4 GHz ermöglicht coole Stunts mit dem RC Flix Star, der aufgrund seines dynamischen Designs zum echten Hingucker im Wohnzimmer wird. Waghalsige Stunts, Überschläge und verrückte Bewegungen werden per Knopfdruck gesteuert. Wer sich die Show lieber ganz gemütlich anschauen möchte, kann den Demo- und Präsentationsmodus wählen. Dabei werden die frei programmierbaren Fahr- und Actionsequenzen abgespielt, damit die ganze Familie sie bestaunen kann.
Transformationskünstler
Der einzigartige Look des Fahrzeugs wird durch seine Fähigkeit komplettiert, von vier auf sechs Rädern zu wechseln. Die erhöhte Anzahl der Räder erlaubt zusammen mit der frei schwenkbaren Mitte des Wagens zahlreiche einzigartige Manöver. Ob Rotationen um die eigene Achse oder waghalsige Flips: Hier gibt es immer etwas zu sehen!
Der Fahrspaß kann tagsüber oder auch in der Dämmerung stattfinden, denn die Scheinwerfer sind via Knopfdruck schnell ein- oder ausgeschaltet. Das gilt auch für die Musik: Hier stehen drei verschiedene Songs zur Auswahl, die jederzeit zugeschaltet oder komplett abgestellt werden können.
Dank der detaillierten und umfangreichen RC Fernsteuerung werden schon kleine Autofans ab 6 Jahren erste Kunststücke vorführen. Wer möchte, kann die Bühne den großen Stuntkünstlern überlassen, die durch geschickte Kombinationen alle zum Staunen bringen.
Sofort loslegen
Die benötigten Batterien (2 x AA - Sender, 1 x 3,2V 500 mAh Li-Ionen Akku - Auto) sind alle bereits enthalten. Sobald der Akku leer ist, kann er ganz einfach innerhalb von 90 Minuten (via USB-Ladekabel - integriert) aufgeladen werden. Dann ist das fernsteuerbare Stuntauto für ca. 12 Minuten einsatzbereit. Nach 5 Minuten Inaktivität startet ein automatischer Sleep-Modus zum Energiesparen.
Dickie Toys – Vielfalt die seit über 50 Jahren überzeugt
Ob einfach mechanisch oder technisch komplex - die Faszination für alles was fährt, schwimmt oder fliegt, ist bei Dickie Toys deutlich spürbar. Bagger, Polizei oder Feuerwehr – Dickie Toys inszeniert die Realität auf mitreißende Weise und ermöglicht den Kleinen, die weite Welt mit leuchtenden Augen zu entdecken.

Warning! Not suitable for children under 3 years due to small parts. Choking hazard!
---
Product details
• Verrückte Transformationen - Mit schwingbarer Achse, die einzigartige Tricks, Überschläge und andere Kunststücke via 3-Kanal-Fernsteuerung (2,4 GHz) möglich macht. 100% ready to run!
• Wandelbar - Für wilde Flips und schnelle Rotationen wechselt das ferngesteuerte Auto (26 cm Länge) im Handumdrehen von vier auf sechs Reifen und bietet eine Höchstgeschwindigkeit von 6 km/h.
• Action auf Knopfdruck - Verschiedene Action- und Fahrsequenzen frei programmierbar, inklusive Licht. Batterien (2 x AA Batterien, 1 x 3,2V 500 mAh Li-Ionen) enthalten, via USB-Kabel aufladbar.
• Mit Lautsprecher - Drei verschiedene Tracks lassen sich über die Funkfernbedienung abspielen. Alternativ kann natürlich der Sound auch komplett abgeschaltet werden.
• Über Dickie Toys – Die Fahrzeugmarke für Kinder! Wir haben immer ein Ziel vor Augen: Kindern ein Lächeln ins Gesicht zu zaubern. Einfach auspacken und los geht der Spaß!