---
Sort by:
Top sellers
New
Price ascending
Price descending
Filter
---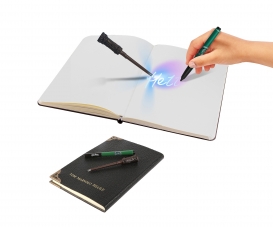 Costumes & accessories
Harry Potter Tom Riddle's Diary Notebook
€18.99
Harry Potter Tom Riddle's Diary: Mysteries of the Chamber of Secrets Every Harry Potter fan knows what Tom Riddle's Diary is – and what it has to do with the Chamber Of Secrets. Dickie Toys now brings this important element of the book and film saga into the home in an innovative way: The set includes a blank diary in the film-look that any fan can fill out themselves. Writing is done with invisible ink that only becomes visible again when viewed under UV light. The pen and UV lamp in a magic wand design are already included. Secret thoughts, mysterious messages or the most exciting movie scenes? All of this is to be found in this fan gift for Potterheads from the age of six upwards.
More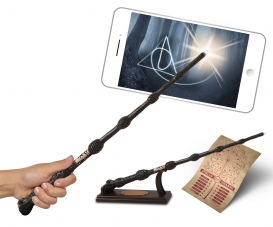 Costumes & accessories
Harry Potter magic wand
€37.99
Harry Potter Master Elder Wand The duel can begin! Whether "Expelliarmus"" or ""Expecto Patronum": With the Harry Potter Master Elder Wand any fan now becomes a Hogwarts student and is able to put their magic spell abilities to the test. The original film prop was laser scanned to create a replica of the magic wand, which was then cast from high grade resin and lovingly hand painted. The brightly shining LED tip draws shapes, pictures and words in the air. The free-of-charge app enables these works to be stored and shared on social networks. Between wizards duals the Harry Potter Master Elder Wand rests on its elegant stand and, with the accompanying smartphone holder, one is able to directly check one's own progress in the art of magic. Nobody who is still waiting for their letter from Hogwarts should miss out on this unique gift for fans aged six and above!
More