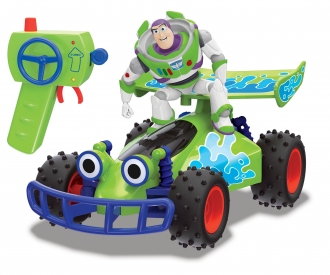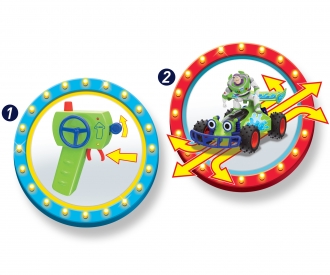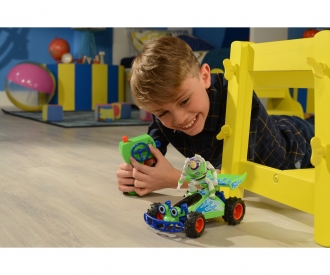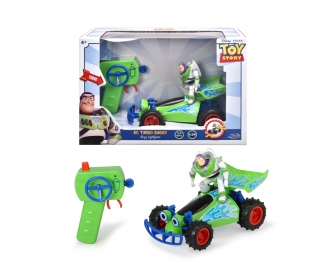 https://video.simba-dickie.com/embed/de/rc_matching_guide/?autoplay=1&quality=720p




Quantity:
1
2
3
4
5
6
7
8
9
10
11
12
13
14
15
16
17
18
19
20
21
22
23
24
25
26
27
28
29
30
RC Toy Story Buggy with Buzz: with turbo power through a child's bedroom!
This cheeky animation adventure — based on the popular toys from the Pixar creative workshop — leads them on an exciting road trip together with both old and new friends. There they learn that for a toy, the world is much bigger than they ever imagined.
With the RC Toy Story Buggy with Buzz, Dickie Toys presents a suitable "sequel" for a child's bedroom. This toy car with radio remote control has a permanently attached Buzz Lightyear figure and, thanks to its turbo function, reaches speeds of up to 7.5 kilometres per hour — just as it should be for the speedy Buzz. The remote control can steer the car, with its range of up to 15 metres, forwards, backwards and to the left and right.
With it, children aged four and over are bound to become fans of these exciting tales as well and will discover the Toy Story world in their own way.

Warning! Not suitable for children under 3 years due to small parts. Choking hazard!
• toy car with 2-channel remote control (2.4 GHz)
• drives forwards, backwards, left and right,
• with permanently attached Buzz figure
• normal speed: 4.5–5.5 km/h
• turbo function (6.0–7.5 km/h)
• scale: 1:24
• length: 20 cm
• remote control range: 15 m
• driving time approx. 40 minutes
• batteries not included (4x 1,5V-LR6 + 2x 1,5V-LR03)
• age recommendation: 4+