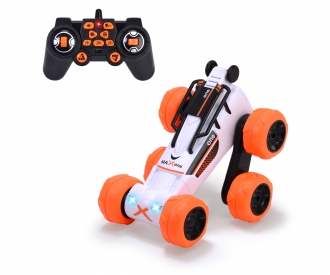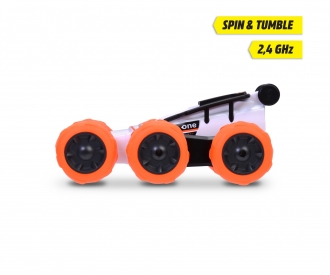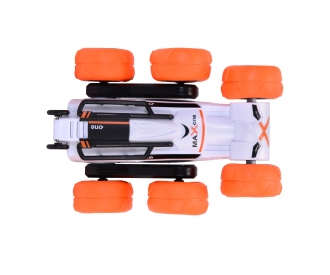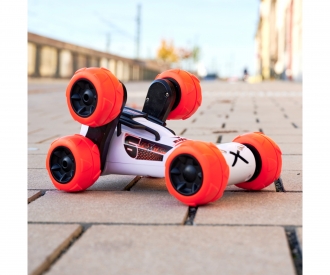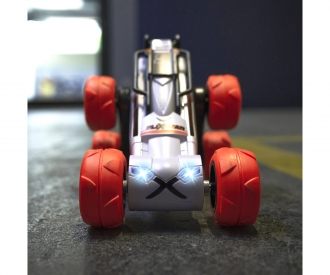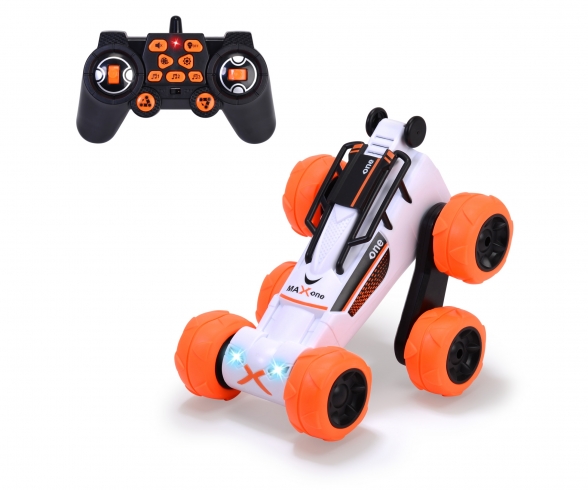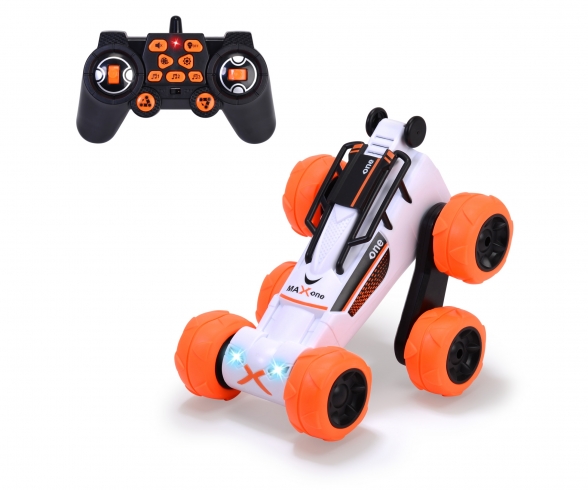 Quantity:
1
2
3
4
5
6
7
8
9
10
11
12
13
14
15
16
17
18
19
20
21
22
23
24
25
26
27
28
29
30
Delivery time 1-3 working days within Germany
Dickie Toys – RC Flix Star – Remote-controlled stunt vehicle, 3-channel remote control for tricks and flips, transforms from 4 to 6 wheel-design, for children aged 6 and above
Dickie Toys RC Flix Star – action-packed convertible vehicle with 4 or 6 wheels!
In addition to an eye-catching design, the vehicle comes with an intuitive 3-channel, 2.4 GHz remote control that allows you to perform cool stunts and flip maneuvers at the touch of a button. There is also a demo and presentation mode, which can be used to show off your preset action sequences.
Convertible design
The vehicle's unique look can be attributed to its ability to switch from four to six wheels. The additional wheels and pivoted central axle enable the vehicle to perform a wide range of stunning maneuvers – from thrilling rotations to daring flips, there's no shortage of possibilities!
The vehicle also features built-in headlights, which can be switched on at the touch of a button, just like the speakers – with the remote control, you can choose from three different songs or mute the sound.
The remote control is packed with exciting functions, and is suitable for young car fans aged 6 and above, as well as more advanced users who can use the various controls to perform all sorts of stunning maneuvers.
Includes batteries
The required batteries (2x AA for remote control and 1x 3.2 V 500 mAh Li-ion rechargeable battery for vehicle) are included in the packaging. When the vehicle battery is empty, you can recharge it in just 90 minutes using the integrated USB charging cable. A full charge provides enough power for approximately 12 minutes of driving. After 5 minutes of inactivity, sleep mode is automatically enabled to save battery power.
Dickie Toys – Over 5 decades of cutting-edge toys
At Dickie Toys, we are passionate about vehicles, boats, aircraft and everything else that moves. Our range of vehicles includes diggers, police vehicles, fire engines and more, which feature realistic designs and allow your little one to explore the world like never before.

Warning! Not suitable for children under 3 years due to small parts. Choking hazard!
• Thrilling stunt maneuvers – The vehicle features a swinging axle that allows you to perform amazing tricks, flips and other stunt maneuvers via the 3-channel remote control (2.4 GHz). 100% ready to run!
• Convertible design – Capable of speeds of up to 6 km/h, the remote-controlled vehicle (26 cm long) can perform stunning flip maneuvers and transform from a four to six wheel-design.
• Action-packed fun at the touch of a button – The vehicle allows you to program your own action and driving sequences, and also features a built-in light. The required batteries (2x AA batteries, 1x 3.2 V 500 mAh Li-ion battery) are included with the product, and the vehicle battery can be recharged with a USB cable.
• Built-in speaker – The vehicle can play three different audio tracks, which can be selected or muted via the remote control.
• About Dickie Toys – The vehicle brand for children! We always have the same goal in mind: to make children smile. Unpack your toy and let the fun begin!