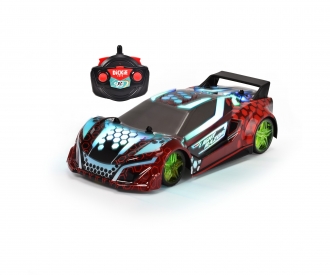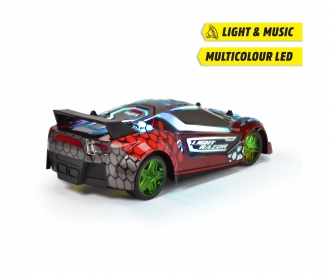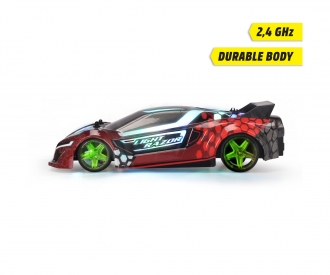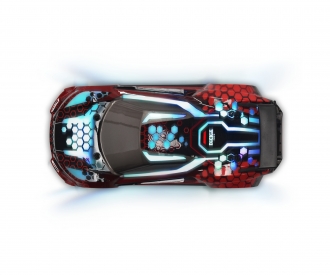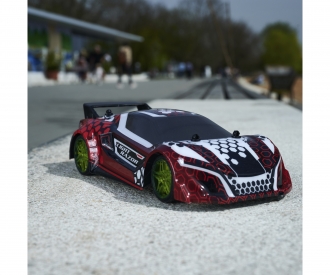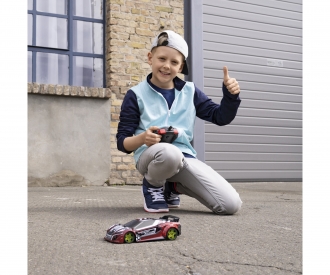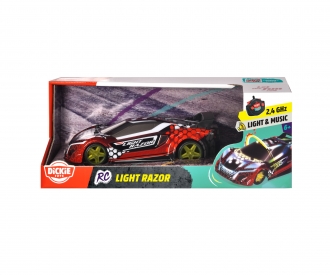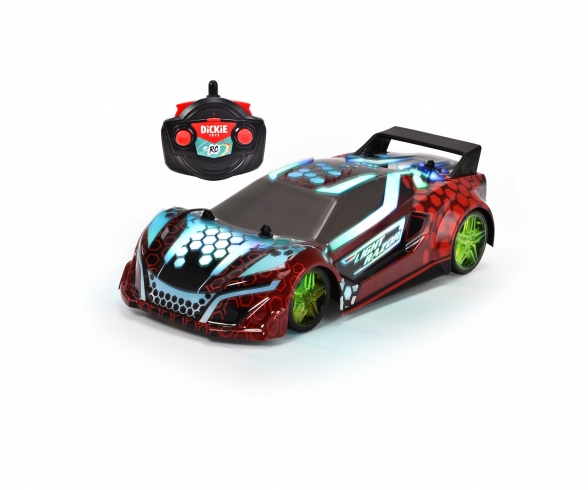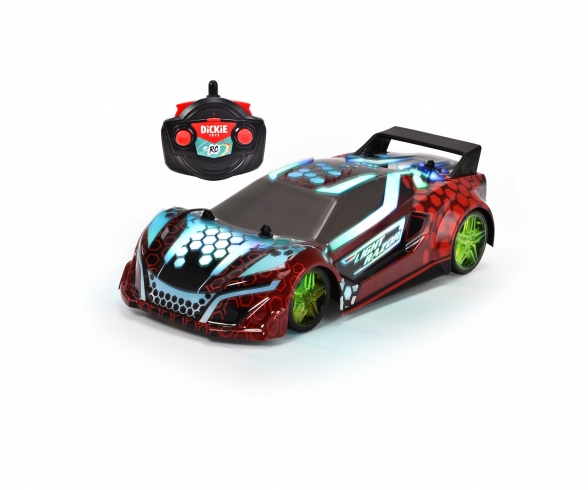 Quantity:
1
2
3
4
5
6
7
8
9
10
11
12
13
14
15
16
17
18
19
20
21
22
23
24
25
26
27
28
29
30
Delivery time 1-3 working days within Germany
Dickie Toys – RC Light Razor – Remote-controlled sports vehicle for children aged 6 and above, toy vehicle (1:20 scale) with light and sound effects
RC Light Razor from Dickie Toys – Multicolored vehicle with LEDs and sound effects!
This toy vehicle is the perfect gift for all vehicle fans. Sporting a chic design, it comes with multicolored LEDs and exciting light and sound effects for action-packed adventures.
The RC Light Razor is a fast and agile racing car with high-grip tires that stop the vehicle from losing its grip on the racing track and around bends. If it does go off course, the sturdy chassis will ensure that everything stays intact.
The toy car comes with a remote control (2 channels, 2.4 GHz), which is easy to handle and turns your child's bedroom into an exciting racing track. The stunning RC Light Razor can reach speeds of up to 9 km/h. Perfect for action-packed races!
• Light and sound effects
• Toy vehicle with remote control (2-channel, 2.4 GHz)
• Speeds of up to 9 km/h
• Batteries: 2x 1.5 V AA (transmitter, not included) + 3x 1.5 V AA (receiver, not included)
• Dimensions: 13 cm (L) x 34 cm (W) x 13 cm (H)
• 1:20 scale
• Suitable for children aged 6 and above.
Dickie Toys – Over 5 decades of cutting-edge toys
At Dickie Toys, we are passionate about vehicles, boats, aircraft and everything else that moves. Our range of vehicles includes diggers, police vehicles, fire engines and more, which feature realistic designs and allow your little one to explore the world like never before.

Warning! Not suitable for children under 3 years due to small parts. Choking hazard!
• Powerful racing vehicle with light and sound effects – This remote-controlled vehicle is a real eye-catcher: in addition to multicolored LED lights, it also features a built-in sound system!
• Fast and agile – The RC racing vehicle from Dickie Toys can reach speeds of up 9 km/h. It also features a robust chassis and high-quality design that protect the remote control car when it comes into contact with obstacles.
• Easy to control – The battery-operated vehicle can be used straight away and does not need to be charged. Both the vehicle and the light and sound effects are controlled via the remote control, which is suitable for children aged 6 and above.
• Technical details – 2-channel remote control, 2.4 GHz, 22 cm, max. speed: 9 km/h, transmitter (remote control) requires 2 AA batteries, the receiver (vehicle) requires 3 AA batteries. The batteries are NOT included.
• About Dickie Toys – The vehicle brand for children! We always have the same goal in mind: to make children smile. Unpack your toy and let the fun begin!