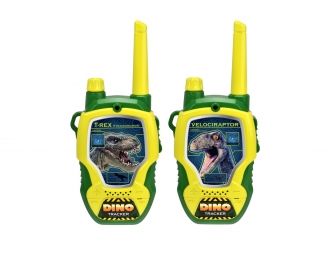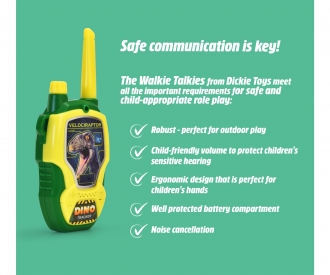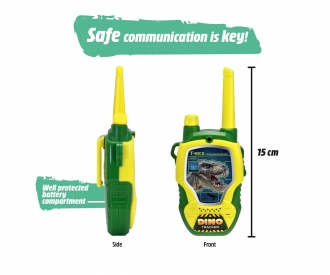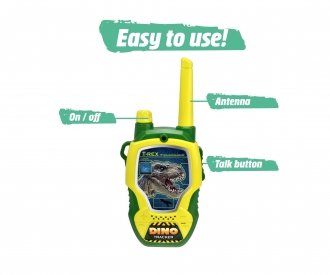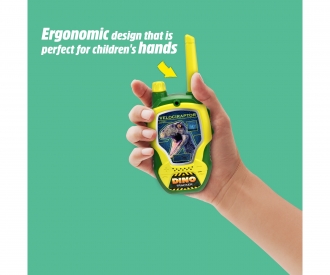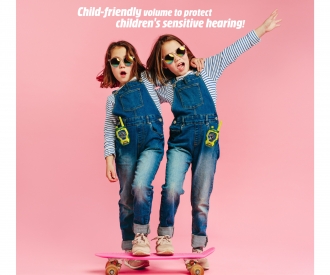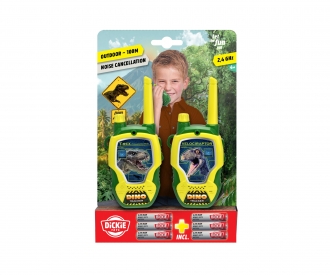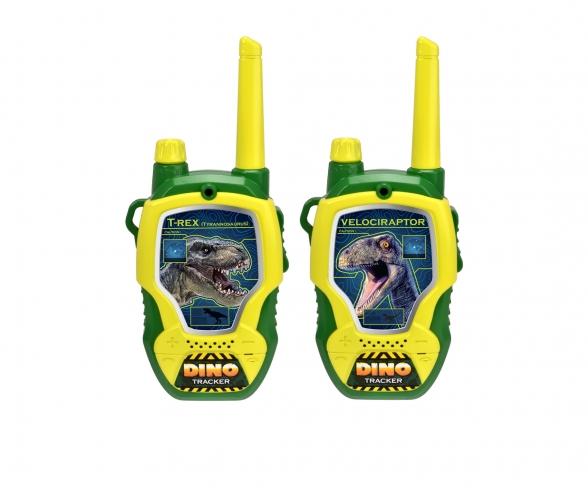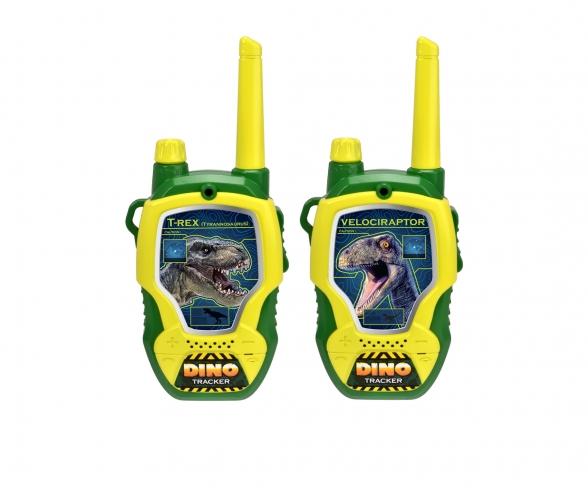 Quantity:
1
2
3
4
5
6
7
8
9
10
11
12
13
14
15
16
17
18
19
20
21
22
23
24
25
26
27
28
29
30
Delivery time 1-3 working days within Germany
Dickie Toys – Dino-themed walkie talkies – 2 walkie-talkies, specially designed for children aged 4 and above, range of up to 100 metres, toy walkie-talkie
Dickie Toys walkie-talkies – time for a new adventure!
When you're out on an adventure, it's always important to be able to contact your fellow explorers. With these handy walkie-talkies, you can keep in touch wherever you are and share important information at the touch of a button.
Child-friendly design
Designed specially for children, the walkie-talkies feature a detailed, brightly coloured housing to inspire creative play. Thanks to the intuitive design, even young children will have no problems operating the devices – just press the button and speak into the microphone to relay your message. The speaker volume is set to an appropriate level in order to protect sensitive young ears, while the sturdy housing ensures that the walkie-talkies can withstand the occasional drop or impact. The walkie-talkies also feature an ergonomic design that is tailored specifically to young hands. Featuring a sealed battery compartment and noise cancellation technology to suppress background noise, the Dickie Toys walkie-talkies are the ideal role-play toy for action-packed adventures.
For children aged 4 and above
Designed for children aged 4 and above, these walkie-talkies can be used at a range of up to 100 metres, and are the perfect accessory for young adventurers. Important: Please note that children's walkie-talkies should always come with a toy label (e.g. a statement such as 'suitable for children aged X and above'). Conventional walkie-talkies may have a negative impact on your child's development and are not designed to be used as a toy.

Warning! Not suitable for children under 3 years due to small parts. Choking hazard!
• The perfect walkie-talkies for children – Featuring an intuitive design, child-friendly volume, sturdy housing and a sealed battery compartment, these walkie-talkies make a great children's toy.
• Child-friendly design – Unlike professional walkie-talkies, the Dickie Toys children's walkie-talkies are specially designed for children aged 4 and above.
• Colourful housing – These walkie-talkies aren't just practical – thanks to their green and yellow design, they also look great!
• Technical information – 2.4 GHz walkie-talkies with a range of up to 100 metres in open spaces, child-friendly volume and transmission power, noise cancellation technology, includes 2x3 AAA batteries.
• Dickie Toys – The vehicle brand for children! We always have the same goal in mind: to make children smile. Unpack your toy and let the fun begin!