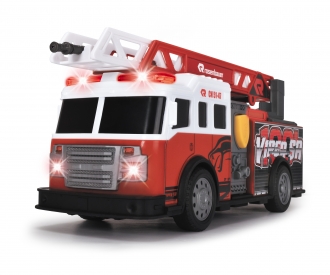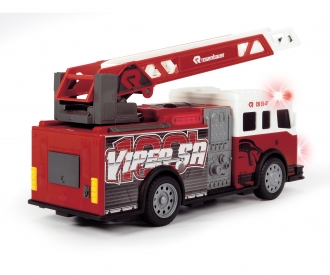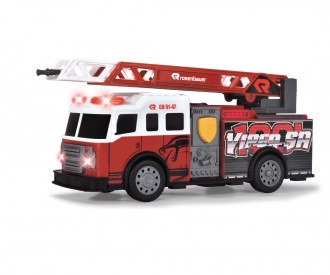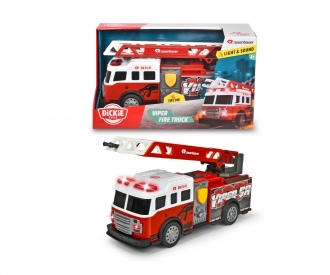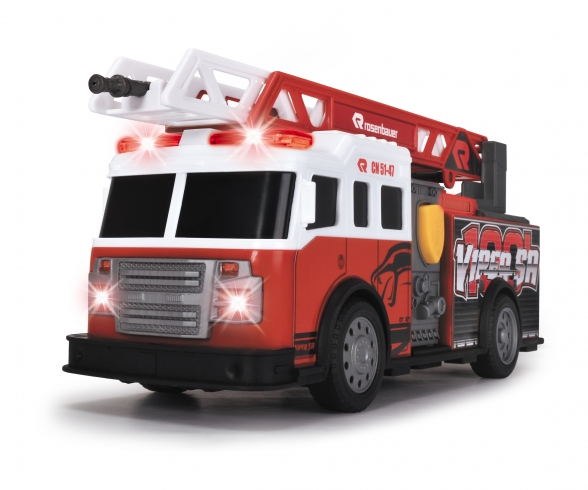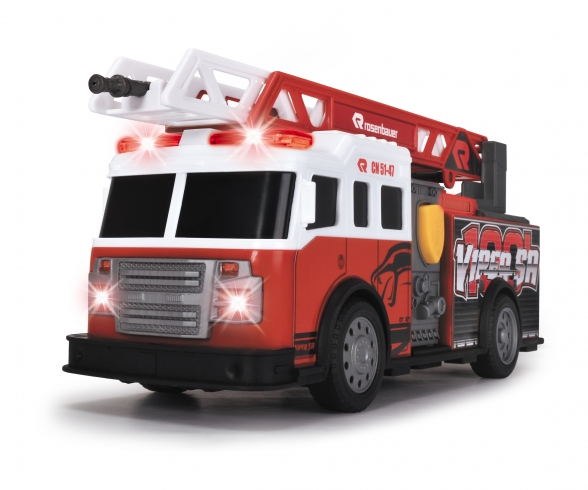 Quantity:
1
2
3
4
5
6
7
8
9
10
11
12
13
14
15
16
17
18
19
20
21
22
23
24
25
26
27
28
29
30
Delivery time 1-3 working days within Germany
Dickie Toys – Fire Truck with turntable ladder – with blue light and siren, 27 cm long, extendable turntable ladder, for children aged 3 and above

Dickie Toys – Viper Fire Truck – Fire brigade to the rescue!
Many children dream of joining the fire brigade. This toy vehicle allows youngsters to immerse themselves in the world of a firefighter and learn about the functions of a fire engine.

Realistic light and sound effects
The red and white fire engine features rotating wheels and is easy for young children to manoeuvre. It also has a siren and flashing lights to alert nearby traffic, just like a real fire engine!

Learning through play
In addition to the fun features, the fire engine also helps to train fine motor skills. The long ladder can be rotated and extended so that the firefighters can reach tall trees or large houses. It is the ideal toy for teaching young children about the functions of a fire engine and how it can save lives.

For children aged 3 and above
Designed for children aged 3 and above, the 27 cm long fire engine is the perfect toy for budding young firefighters who want to protect their toy city against raging flames. Thanks to the high-quality workmanship, colourful design and entertaining light and sound effects, it is guaranteed to provide hours of endless fun.

Dickie Toys – Over 5 decades of cutting-edge toys
At Dickie Toys, we are passionate about vehicles, boats, aircraft and everything else that moves. Our range of vehicles includes diggers, police vehicles, fire engines and more, which feature realistic designs and allow your little one to explore the world like never before.

Warning! Not suitable for children under 3 years due to small parts. Choking hazard!
• Equipped for every emergency – This large fire truck is modelled on the original Rosenbauer model and is the perfect toy for budding young firefighters.
• Large turntable ladder – With the extendable turntable ladder, the fire truck can reach even the most inaccessible of places, from a fire in a tower block to a cat that needs to be rescued from a tree.
• Wee-woo wee-woo! The fire truck features a button for activating the built-in siren and blue light, which alert nearby traffic to give way. (Includes 2x AA batteries.)
• From 3 years of age – Thanks to the rounded edges and rotating wheels, the 27 cm fire engine is ideal for children aged 3 and above.
• About Dickie Toys – The vehicle brand for children! We always have the same goal in mind: to make children smile. Unpack your toy and let the fun begin!