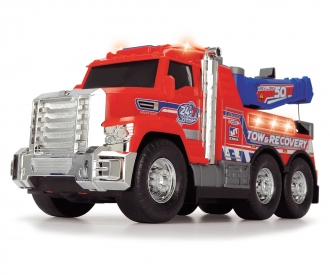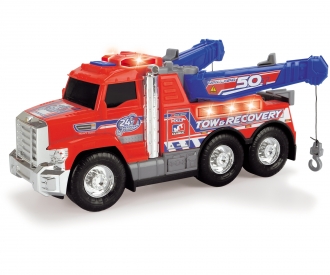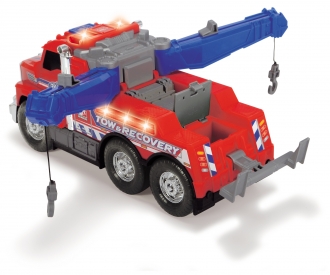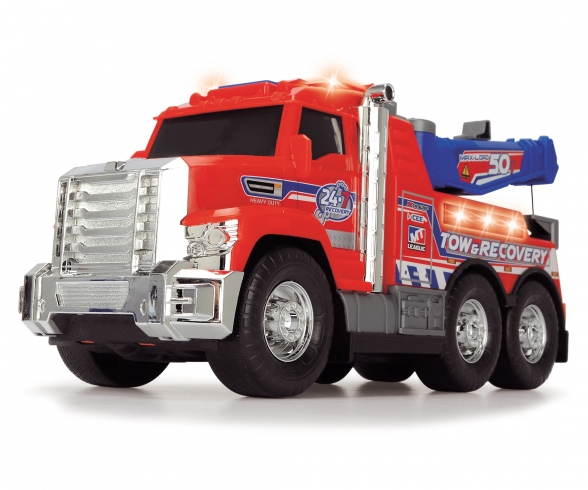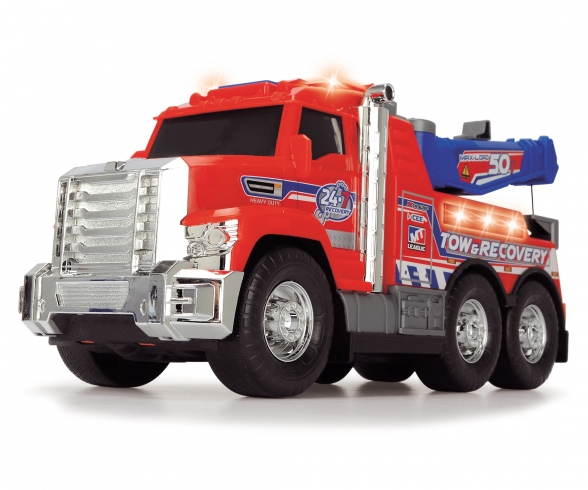 Delivery time 1-3 working days within Germany
Dickie Toys – Tow Truck – 31.5 cm tow truck, with light and sound effects, feature-packed design, toy vehicle for children aged 3 and above
Dickie Toys Tow Truck – Watch out, here comes the tow truck!
Tow trucks are designed for clearing roads and removing improperly parked vehicles. This toy version from Dickie Toys is the perfect way to introduce your little one to the purpose of these vehicles. It features built-in lights and sound effects for alerting nearby vehicles, and comes with all the required batteries (2x 1.5 V AA).
The toy vehicle (31.5 cm) is designed based on an American model, and features a bright red and blue color scheme as well as shiny chrome parts. This design is typical for American vehicles and is guaranteed to make an eye-catching addition to your child's bedroom.
For children aged 5-8
The tow truck features a maneuverable tow bar and two large hooks for removing improperly parked vehicles from your child's toy collection. Attaching toy vehicles to the tow truck also helps to train fine motor skills.
Premium quality toy from Dickie Toys
With over 50 years of experience in the toy industry, we know how to entertain children of all different age groups. Even the youngest children can discover and experiment with a wide range of fun features. At Dickie Toys, we aim to train motor skills and introduce the concept of road safety. Whether in your child's bedroom or outdoors, our toys are guaranteed to provide hours of endless fun.

Warning! Not suitable for children under 3 years due to small parts. Choking hazard!
• Original American design – The tow truck is designed based on an original American vehicle and features eye-catching chrome parts.
• Feature-packed design – The tow truck comes with a tow bar and sliding hook for towing away toy cars.
• For children aged 3 and above – The tow truck is easy to maneuver thanks to its child-friendly size and rotating wheels.
• Light and sound effects – The vehicle also features light and sound effects for alerting nearby vehicles. (Includes 2x 1.5 V AA batteries.)
• About Dickie Toys – The vehicle brand for children! We always have the same goal in mind: to make children smile. Unpack your toy and let the fun begin!