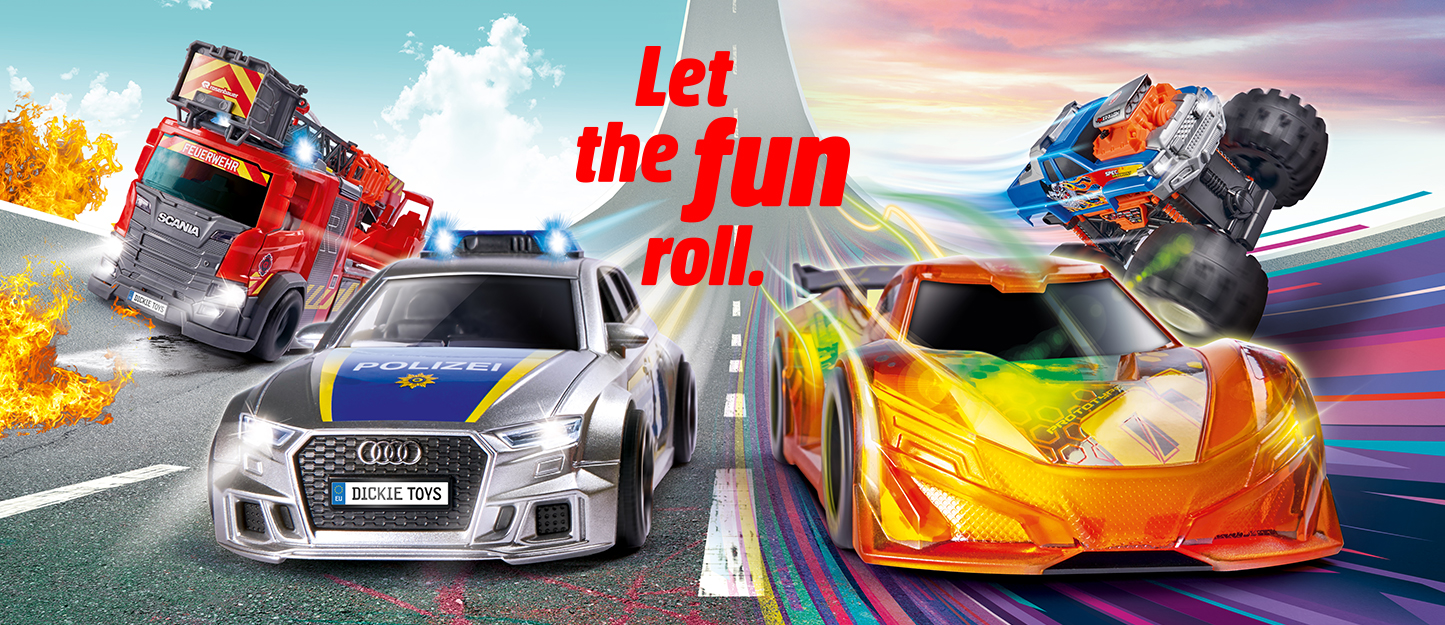 An impressive variety
Whether simple and mechanical or technically sophisticated, the fascination with everything that drives, flies or floats is blatantly apparent with Dickie Toys. As a long-standing automotive industry partner, we inspire kids and parents alike with a passion for all things mobile, stimulating the thirst for discovery alongside the joy of play. Dickie Toys has an extensive range, with all kinds of different themes to choose from and accompanies children through all stages of their development.
Brand philosophy
Learning and experiencing for young and old.
As a company with over 40 years of experience in the business, we know how to appeal to children of all ages and inspire them to play. Even at an early age, the youngest children start to discover and test out the various play features. This is how Dickie Toys trains the motor skills at the same time as taking the first steps towards road safety education. Whether in the playroom or outdoors, Dickie Toys guarantees to make driving fun.
Dickie Toys stands for:
Huge variety of themes
From small to large, reality to fantasy, mechanical to electronic.
From small child to teenager
All children from one to fourteen can immerse themselves in the world of cars, flying objects, boats and commercial vehicles.
High entertainment value
various play functions, improved motor skills, road safety education through play.
Value for money
Dickie Toys always offers good value for money for its customers
International
The company's headquarters is in Fürth, Germany. Today Dickie Toys exports its toys to over 100 countries. That's why we make a point of making our commercial vehicles in a variety of models for different countries.
Show more
Show less
History
The history of the Dickie Toys company.
Wolfgang Sauerborn founds the Sauerborn & Stübinger toy company
Dickie Toys Hong Kong is founded
The company is renamed Dickie Spielzeug (Deutschland) and Dickie Toys (International)
Aged 49, Sauerborn has a fatal accident when his Learjet crashes at Cologne Airport. Simba Toys takes the company over in the October. Start of the Simba Dickie Group success story.
Contract signed between future record Formula 1 champion Michael Schumacher and Dickie Toys
For the first time in the company's history, Dickie Toys secures a master toy licence from Walt Disney
Dickie Toys is granted the exclusive RC licensing rights for Disney Pixar's "Cars" and shortly afterwards breaks the million barrier with sales of the "Lightning McQueen (1:24)" product
Dickie Toys receives the Disney Product Award 2012 – "Product of the Year" for the RC vehicle "Lightning McQueen (1:12)"
Relaunch of the product and packaging range for RC vehicles
Dickie Toys is granted the licence for the successful Fireman Sam TV series
Show more
Show less
Design & Development
Designs from all over the world
Besides its own product and car designers, Dickie Toys also works with partners from the automotive industry and toy licensing sector. In collaboration with international universities and designers from all over the world, our products are born from a synergy of high technical expertise, current trends and innovations. This is what gives age-appropriate, new and exciting Dickie Toy products their own personal touch.
Production
Quality and safety
As a result of many years of cooperation with the Dickie Toys Hong Kong Office and our suppliers in Asia, we are constantly optimising our quality and processes to facilitate sustainable work with efficient use of resources. When manufacturing and finishing products we ensure compliance with international standards. Prior to leaving the factory, each Dickie Toys product is subject to both internal and external quality and safety checks to ensure compliance with legal requirements according to international standards.