---
Sort by:
Top sellers
New
Price ascending
Price descending
Filter
---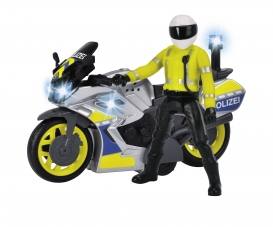 Motorbikes
Police Bike
203712018
€14.99
Dickie Toys – Police Motorbike – Toy motorbike with police figure, for children aged 3 and above, with blue light and siren, friction, 17 cm long About Dickie Toys – The vehicle brand for children! We always have the same goal in mind: to make children smile. Unpack your toy and let the fun begin! Dickie Toys – Police Bike – Always ready for action! Police officers don't always travel in patrol cars. For fast-paced manhunts or city patrols, motorbikes are often used. This Dickie Toys police motorbike allows young children to immerse themselves in the world of a police officer and solve crimes. The perfect gift No more waiting in traffic jams! Police motorbikes can weave their way through traffic to reach the scene as quickly as possible.  With this Dickie Toys police motorbike, young children can act out exciting scenes from their favourite movies. This unique motorbike is the perfect gift for budding young police officers. Featuring light and sound effects, it is modelled on the Yamaha original and has an eye-catching design.  The batteries (2x AAA) are included with the vehicle. For children aged 3 and above The large 17 cm design is perfect for small hands. The motorbike also features a blue light and siren that can be triggered with a simple button press,  as well as a police figure that can be removed from the bike. What will the next adventure be? The possibilities are endless! Dickie Toys – Over 5 decades of cutting-edge toys At Dickie Toys, we are passionate about vehicles, boats, aircraft and everything else that moves. Our range of vehicles includes diggers, police vehicles, fire engines and more, which feature realistic designs and allow your little one to explore the world like never before.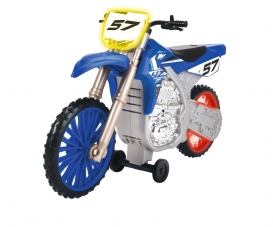 Motorbikes
Yamaha YZ - Wheelie Raiders
203764014
€24.99
Dickie Toys Yamaha YZ: Fun guaranteed! The Dickie Toys Yamaha YZ from the Wheelie Raiders series comes with a number of exciting features. The motorized toy motorbike travels forwards at the touch of a button and does a wheelie. It also features light and sound effects and is designed for children aged 3 and above. With a detailed motocross design based on an original Yamaha license, this new item from Dickie Toys makes an ideal gift for young motor sports fans.