---
Sort by:
Top sellers
New
Price ascending
Price descending
Filter
---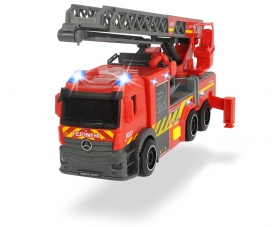 Fire engines
Fire Engine with turnable ladder
203714011
€24.99
Dickie Toys fire engine with turntable ladder: the ultimate life saver This Dickie Toys fire engine comes with a turntable ladder and detailed features from well-known fire engine models. The cabin is designed in the style of typical Mercedes Benz trucks, while the exterior design is inspired by Rosenbauer. The impressive toy truck also features rolling wheels, lights and sound effects, as well as a rotatable and extendable turntable ladder and extendable legs. It also comes with batteries and is designed for children aged 3 and above.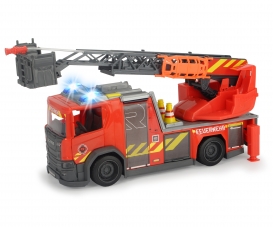 Fire engines
Scania Turntable Ladder
203716017
available from November
This Dickie Toys Scania fire engine features a turntable ladder and is the ideal toy for your little one to discover the world of emergency vehicles. The toy fire engine has rolling wheels and a water spray function. The water can be positioned accurately using the swivel-mounted turntable ladder. The turntable ladder can also be extended. Just like a real fire engine, the toy also comes with extendable legs to stabilize the vehicle. The lovingly designed vehicle combines a Scania cabin with a Rosenbauer-inspired exterior. Scania and Rosenbauer also inspired the design of the traffic cones and stretcher, as well as the opening side-panels. In addition to a detailed design, the toy vehicle features light and sound effects and comes with batteries.