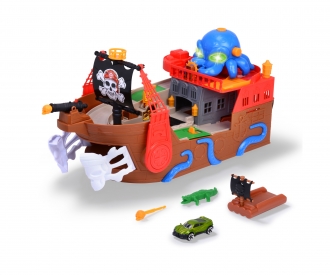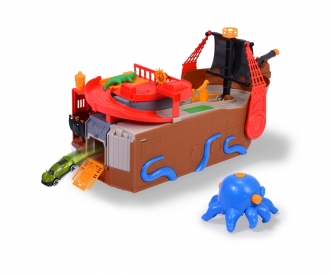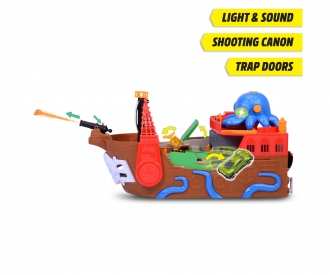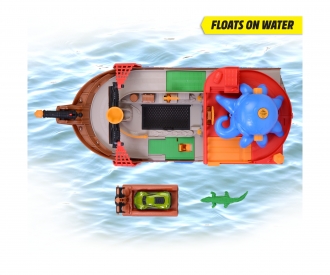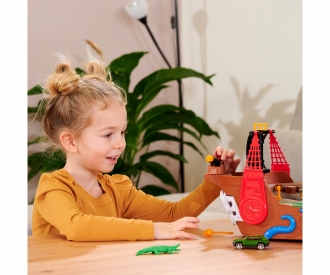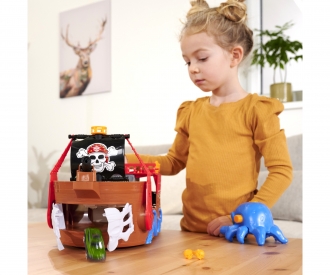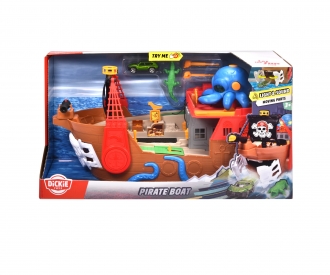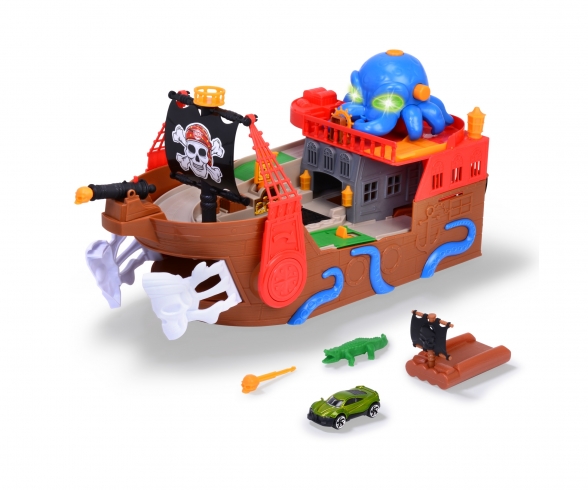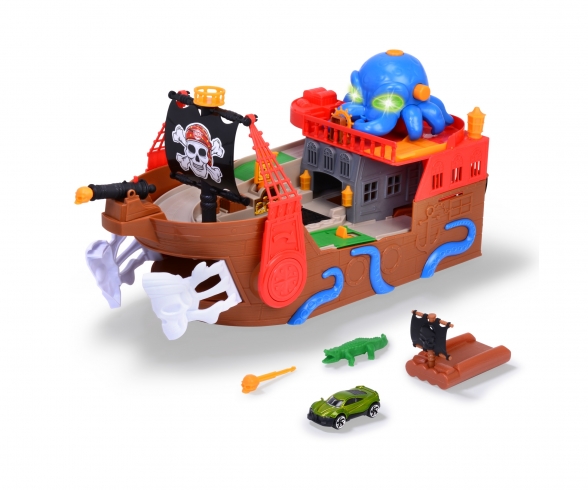 Quantity:
1
2
3
4
5
6
7
8
9
10
11
12
13
14
15
16
17
18
19
20
21
22
23
24
25
26
27
28
29
30
Delivery time 1-3 working days within Germany
Dickie Toys – Pirate ship – Feature-packed toy boat (41.5 cm) for children aged 3 and above, with car racing track, special effects, light and sound effects, can be used as swimming or bathtub toy
All aboard, pirates! Featuring an onboard racing track and other cool features,
this pirate ship from Dickie Toys makes a perfect gift for car and boat fans. It also comes with a scary octopus.
In addition to a colorful design, the ship is also packed with fun features that are guaranteed to keep your little one entertained.
Both the ship and the octopus feature entertaining light and sound effects, and the set includes a number of realistic accessories for your little one to interact with. These include a cannon with a shooting function, a metal car, a crocodile, barrels and a treasure chest, which help to set the scene and stimulate your child's imagination.
There are also plenty of features for the toy car, which can take various routes as it drives across the ship. The ship is equipped with an onboard lever, which ejects the car from a skeleton-shaped door at the front of the ship.
• Light and sound effects
• Detachable octopus figure
• Includes 1 toy metal car
• Accessories and numerous functions
• Ship and raft float on water
• Length: 41.5 cm
• Recommended age: 3+
Premium quality toy from Dickie Toys
With over 50 years of experience in the toy industry, we know how to entertain children of all different age groups. Even the youngest children can discover and experiment with a wide range of fun features. At Dickie Toys, we aim to train motor skills and introduce the concept of road safety. Whether in your child's bedroom or outdoors, our toys are guaranteed to provide hours of endless fun.

Warning! Not suitable for children under 3 years due to small parts. Choking hazard!
• Feature-packed design – Hidden trap doors or secret levers: this pirate ship is much more than a ship! In addition to a water toy, it also doubles up as a racing track and experiment station.
• Built-in car ramp – Depending on which lever is pressed, the metal vehicle speeds through the boat and lands in prison, or is catapulted off the ship with a life raft!
• Octopus with special effects – Press the button to make the eyes of the mystical octopus light up, play sound effects, or make the tentacles grab the car!
• For children aged 3 and above – The set includes a floating pirate ship and raft, a metal car, an octopus with changing colors, a canon with a shoot function, a crocodile, a treasure chest, and much more.
• About Dickie Toys – The vehicle brand for children! We always have the same goal in mind: to make children smile. Unpack your toy and let the fun begin!