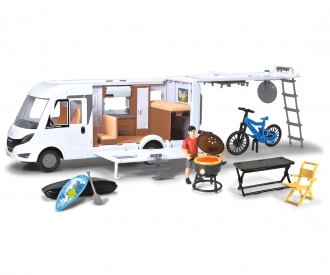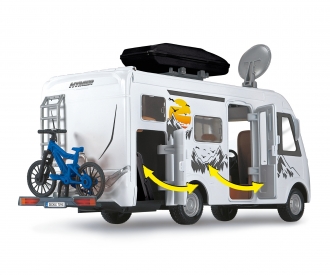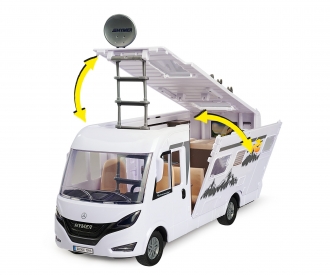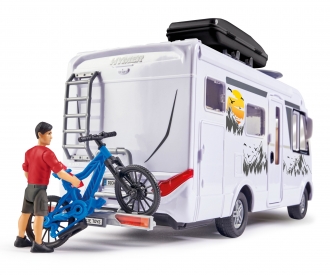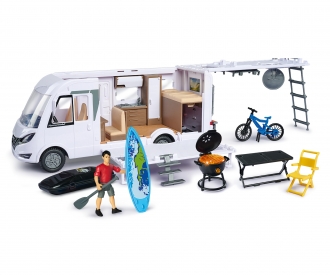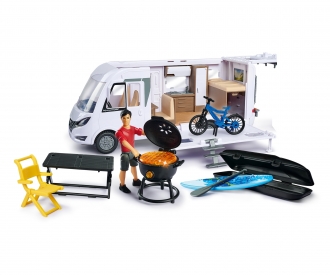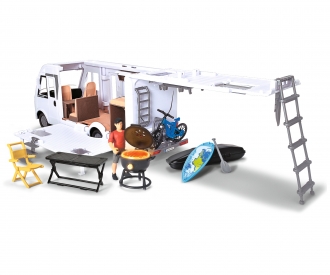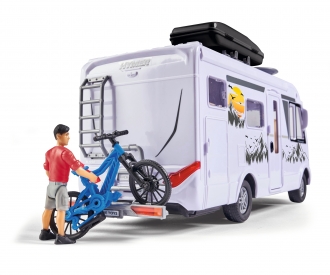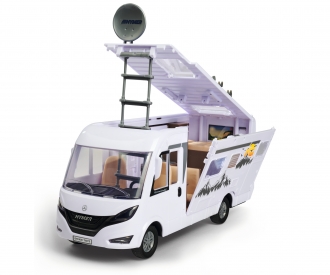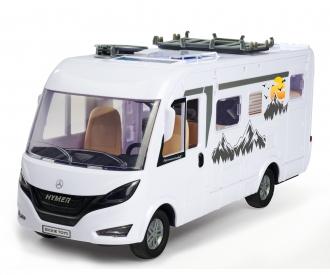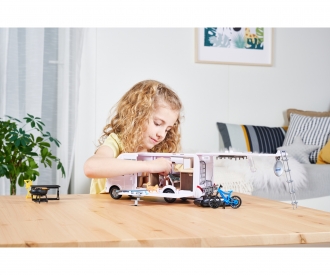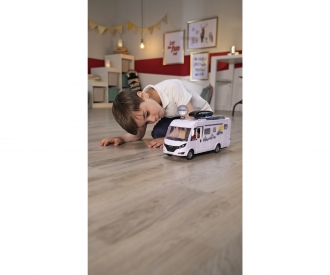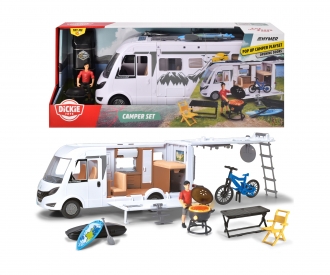 https://video.simba-dickie.com/embed/de/dickie_37/?autoplay=1&quality=720p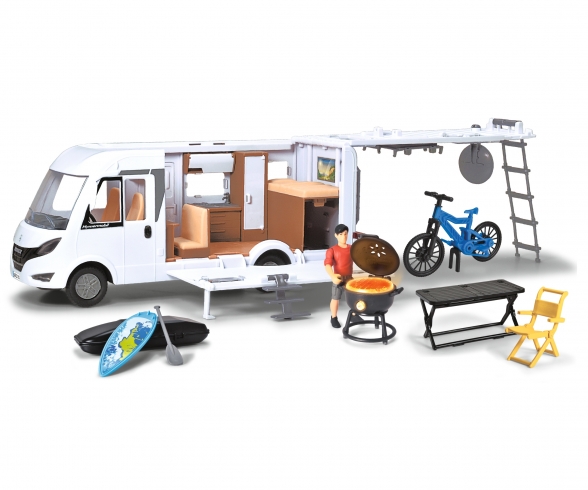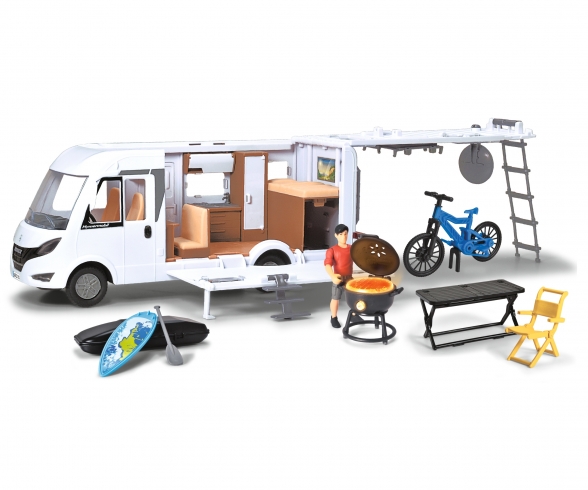 Quantity:
1
2
3
4
5
6
7
8
9
10
11
12
13
14
15
16
17
18
19
20
21
22
23
24
25
26
27
28
29
30
Delivery time 1-3 working days within Germany
Dickie Toys - Toy camper van (30 cm) - Fold-out camper van (white) with numerous accessories, for children aged 3 and above
Dickie Toys Camper Set: Cool Hymer Camping Van with push-along design and numerous accessories
Time to go on holiday in the spacious Hymer Camping Van! This highly-detailed toy camper van from Dickie Toys features free-rolling wheels and is guaranteed to keep your little one entertained. Once you've found a suitable camping place, you can fold down the side panel of the camper van and get started: Who wants to set up the table? Who will take care of the barbecue? And who will get the surfboard from the roof box?
Designed for children aged three and above, the toy camper van has a highly-detailed interior and comes with numerous accessories that are ideal for role play. The roof, side panel and roof window can be easily opened by inexperienced hands. The van also comes with a movable toy figure. The Camper Set helps to train fine motor skills and is guaranteed to inspire all sorts of role play scenarios.
Ideal for use at home and on holiday – order the B-Class Hymer Camping Van and fulfil your little one's dream of owning their own camper van!
• Push-along B-Class Hymer camping van with rubber tyres
• Opening roof, side panel, roof window, cupboard doors and camper doors
• Includes movable figure
• Detailed interior – just like a real camper van!
• Numerous accessories: Table set, barbecue, surfboard, bicycle, roof box
• Length: 30 cm
• Scale: 1:24
• Recommended age: 3+
Dickie Toys – Over 5 decades of cutting-edge toys
At Dickie Toys, we are passionate about vehicles, boats, aircraft and everything else that moves. Our range of vehicles includes diggers, police vehicles, fire engines and more, which feature realistic designs and allow your little one to explore the world like never before.

Warning! Not suitable for children under 3 years due to small parts. Choking hazard!
• Feature-packed camper van set - This spacious push-along Hymer B-Class Camping Van (1:24 scale) has everything on board for a perfect holiday - just like a real camper van!
• Creative toy - Designed for children aged 3 and above, the model vehicle can be easily opened by inexperienced hands to allow the toy figure to move around inside the van.
• Trains fine motor skills - The vehicle comes with a wide range of toy accessories: ✓ Figure ✓ Opening doors ✓ Table set ✓ Grill (with light!) ✓ Surfboard ✓ Bicycle ✓ Ladder ✓ Roof box
• Your very own camper van - whether for your next holiday or your child's bedroom, the camper van (30 cm) is the perfect gift for holidays or birthdays. All the required batteries are included with the product.
• About Dickie Toys – The vehicle brand for children! We always have the same goal in mind: to make children smile. Unpack your toy and let the fun begin!
Frequently bought together
Frequently bought together