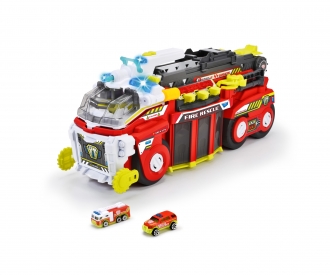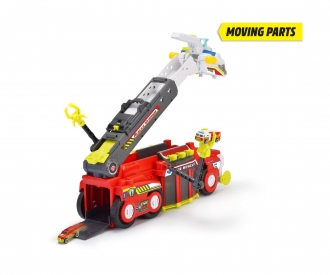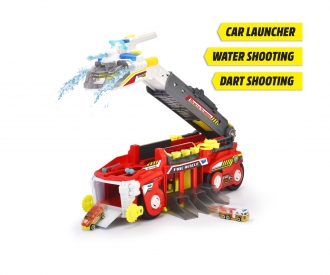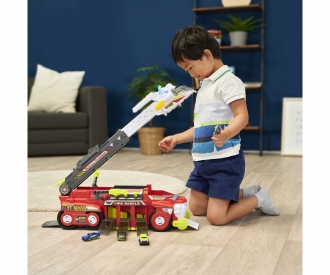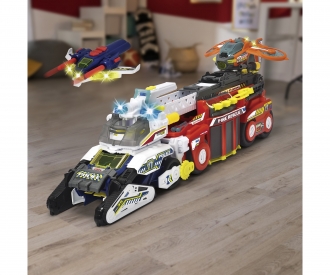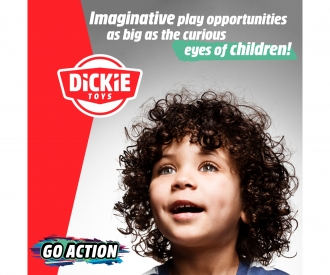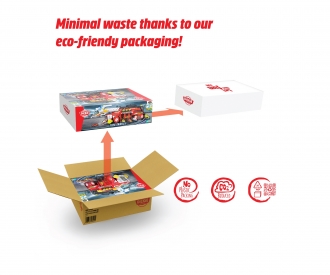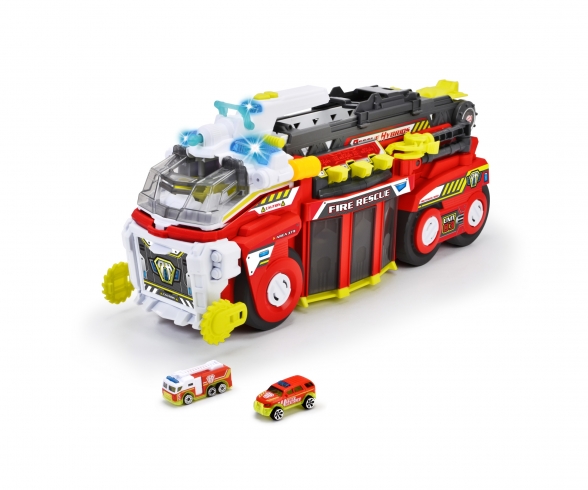 New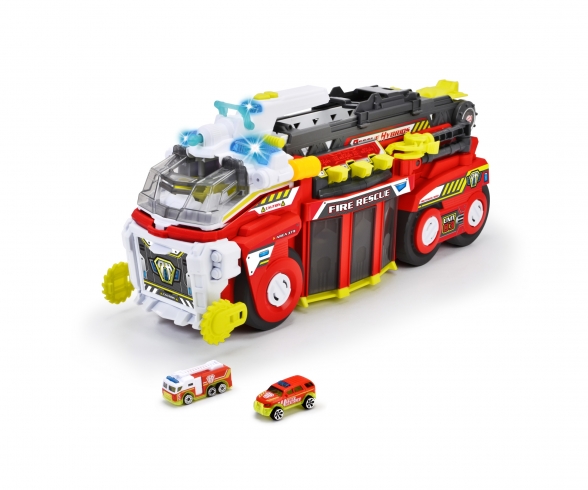 €79.99
incl. VAT
free shipping
(within the EU)
Quantity:
1
2
3
4
5
6
7
8
9
10
11
12
13
14
15
16
17
18
19
20
21
22
23
24
25
26
27
28
29
30
Delivery time 1-3 working days within Germany
Dickie Toys – Large fire engine (55 cm) – Rescue Hybrids Fire Tanker for children, includes water spray function, detachable ladder, light and sound effects + 2 small vehicles
Race to the rescue with the futuristic fire engine from Dickie Toys!
There's no limit to a child's imagination – that's why toys need to be creative and innovative. This futuristic and transformable Fire Tanker from Dickie Toys does just that, and makes a perfect gift for fans of feature-packed toys.
In addition to a stunning and detailed design, the fire engine also has space for up to six vehicles that can be ejected by pressing a button. As you'd expect from a fire-fighting vehicle, the fire engine can also carry water.
The vehicle is equipped with small, easily detachable water containers that can be filled with water and sprayed during fire-fighting missions. There is also a lever for firing projectiles. Spare projectiles can be found in the front of the vehicle.
In addition, the 55 cm long vehicle has two mechanical moving arms with a grip function, which can be used to lift heavy loads. There is also a pull-out storage space for accessories, vehicles and troopers. Other highlights include light and sound effects and rotating wheels.
Just like on real rescue missions, the Rescue Hybrids are more effective when they work together. For this reason, the helicopter can be combined with other vehicles from the Rescue Hybrid series so that you're well equipped for action-packed rescue missions!
Another highlight is the built-in team sound function – when this is activated, the individual vehicles recognize each other and play the Rescue Hybrid team sound.
• Futuristic fire tanker with fold-out function
• Light and sound effects
• Dimensions: 55 cm
• Includes 2x 1.5 V AAA (R03) batteries
• Can be combined with Sky Patroller and Police Bot
• Suitable for children aged 3 and above.
Dickie Toys – Over 5 decades of cutting-edge toys
At Dickie Toys, we are passionate about vehicles, boats, aircraft and everything else that moves. Our range of vehicles includes diggers, police vehicles, fire engines and more, which feature realistic designs and allow your little one to explore the world like never before.

Warning! Not suitable for children under 3 years due to small parts. Choking hazard!
• The classic fire engine is a thing of the past! – This action-packed vehicle is the fire engine of the future, and comes with movable gripper arms, a water pump and additional toy vehicles.
• Action-packed design – The vehicle comes with a lever to launch the fire engine from the cabin via the rear ramp. The lever also opens the 6 side-mounted vehicle cabins.
• All-in-one vehicle – Large fire engine (55 cm), 2 small toy vehicles (7.5 cm), storage space for other vehicles, ladder, water pump, 2 gripper arms, light and sound effects (batteries are included)
• Stronger together – The Fire Tanker can be combined with the Sky Patroller and Police Bot from the Rescue Hybrids fleet. There is even a team sound function! Designed for children aged 3 and above, the vehicles make a perfect gift and are ideal for use in small groups.
• The fun begins with unpacking – the eco-friendly packaging provides an exciting unboxing experience and produces minimal waste. Includes protective outer packaging.
• About Dickie Toys – The vehicle brand for children! We always have the same goal in mind: to make children smile. Unpack your toy and let the fun begin!
Frequently bought together
Frequently bought together