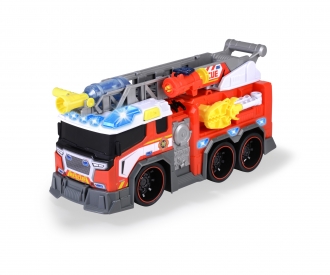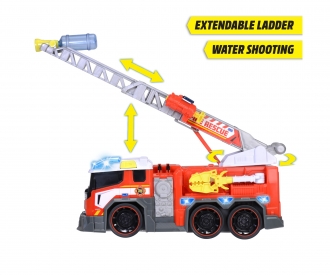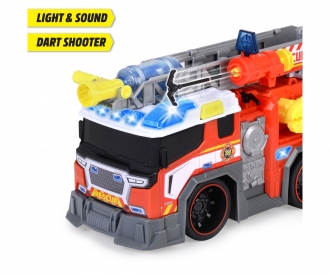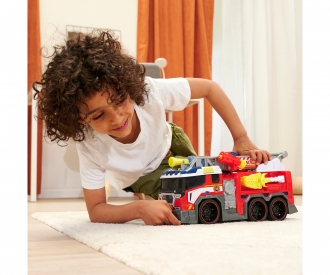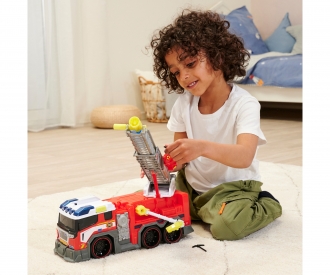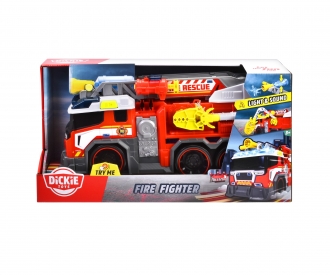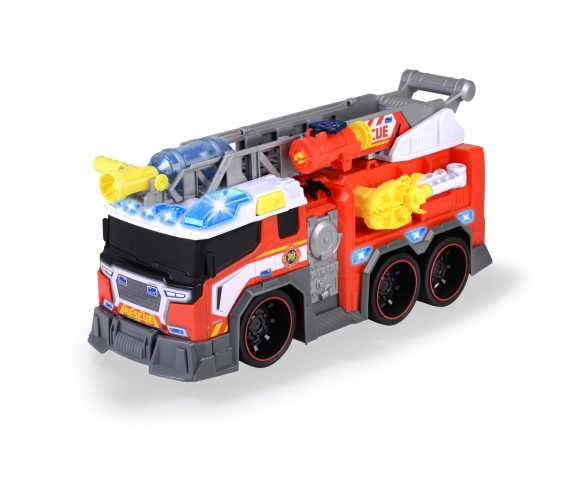 New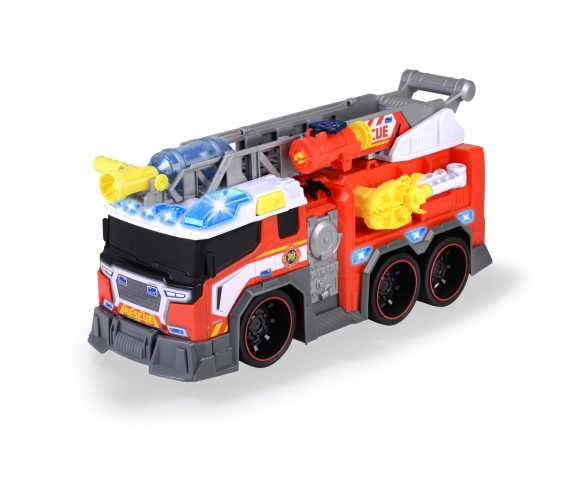 Quantity:
1
2
3
4
5
6
7
8
9
10
11
12
13
14
15
16
17
18
19
20
21
22
23
24
25
26
27
28
29
30
Delivery time 1-3 working days within Germany
Dickie Toys – Fire truck with water cannon – Large toy fire truck (37.5 cm) for children aged 3 and above, vehicle with extendable ladder, gripper arm, arrow shot function, light and sound effects
Large fire engine for children aged 3 and above – with real water cannon!
Featuring flashing lights and a realistic siren, this 37.5 x 13.5 x 18.5 cm fire truck is fully equipped for any rescue mission:
• Extendable ladder
• Freely moving gripper arm
• Cannon with 2 projectiles
• Water cannon with small water tank
• Light and sound effects (includes 2x 1.5 V AA batteries)
Manual water canon
The fire truck is also equipped with a roof-mounted water canon for extinguishing flames. The canon is supplied by a removable water tank, which is designed for small hands.
Toy fire truck for children aged 3 and above.
Firefighters have to respond to all sorts of emergency calls, from rescuing cats in trees to saving people who are trapped in a burning house. Designed for children aged 3 and above, this feature-packed fire truck from Dickie Toys is the ultimate toy for budding young firefighters.
Premium quality toy from Dickie Toys
With over 50 years of experience in the toy industry, we know how to entertain children of all different age groups. Even the youngest children can discover and experiment with a wide range of fun features. At Dickie Toys, we aim to train motor skills and introduce the concept of road safety. Whether in your child's bedroom or outdoors, our toys are guaranteed to provide hours of endless fun.

Warning! Not suitable for children under 3 years due to small parts. Choking hazard!
• Toy fire truck for ages 3 and up – Packed with fun features, this extra large fire truck (37.5 cm long) from Dickie Toys is a must-have for budding young firefighters!
• Cool features – In addition to blue lights and numerous sound effects (including a realistic siren), the vehicle also features an extendable ladder, a side-mounted cannon, a gripper arm and a fully functional water canon.
• Trains fine motor skills – The fire truck is also equipped with a side-mounted mechanical gripper, which can be moved in all directions for picking up small objects such as toy vehicles.
• Water cannon with spray function – The highlight of this red fire truck is the moving water cannon at the tip of the extendable ladder, which sprays water when you squeeze the small tank.
• Dickie Toys – The vehicle brand for children! Feature-packed toys for young children: We always have the same goal in mind – to make children smile. Unpack your toy and let the fun begin!