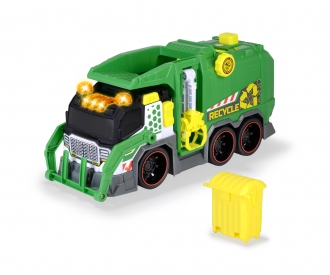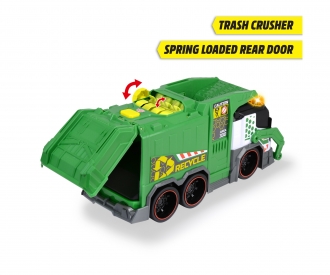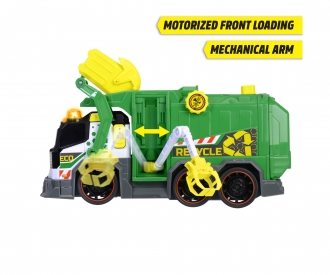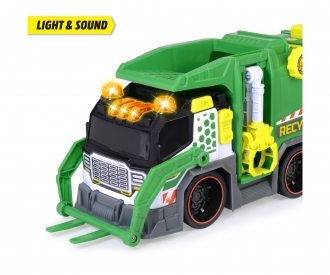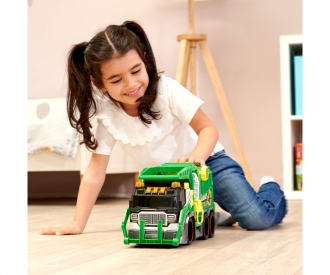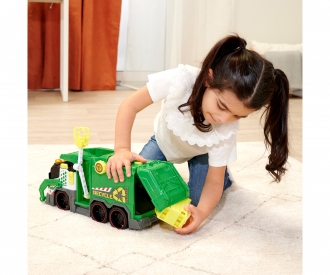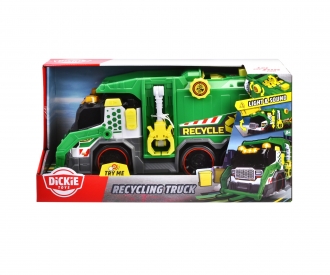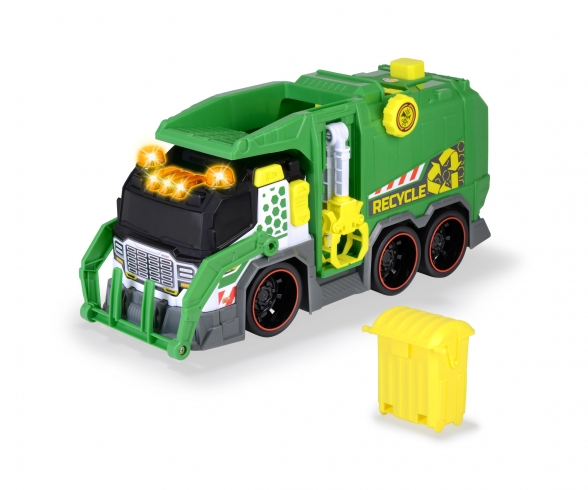 New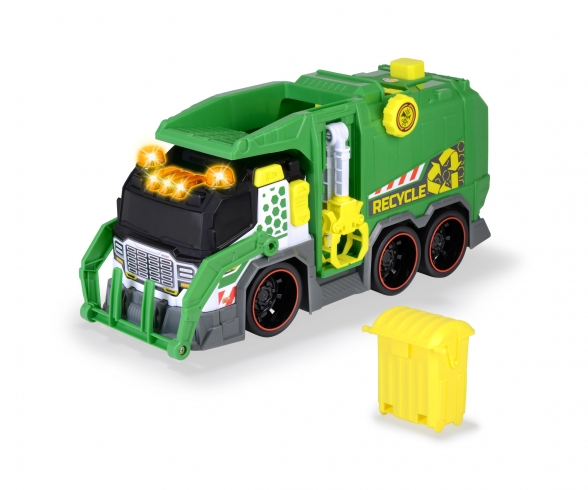 Quantity:
1
2
3
4
5
6
7
8
9
10
11
12
13
14
15
16
17
18
19
20
21
22
23
24
25
26
27
28
29
30
Delivery time 1-3 working days within Germany
This item can only be delivered to the following countries:
Germany
Product information
Dickie Toys - Camion poubelle avec de nombreuses fonctions (39 cm) - Grand camion jouet pour enfants à partir de 3 ans avec fonction de levier motorisé, bras de préhension, poubelle, sons et lumières, etc.
En route vers le centre de tri avec le camion poubelle jouet
Les jours gris et pluvieux, le véhicule vert fluo de collecte des déchets se distingue parmi toutes les autres voitures. Les piles requises pour les fonctions de sons et lumières (2 piles 1,5 V R6) sont fournies dans le set afin de pouvoir commencer à jouer immédiatement.
Jouet à partir de 3 ans : Camion poubelle pour enfants entièrement opérationnel
Avec le camion poubelle de Dickie Toys (39x14x18,5 cm), les enfants dès 3 ans peuvent jouer au ramassage et au tri des déchets. Le camion de recyclage est équipé d'une fonction de levage motorisée pour la poubelle jaune fournie, que les enfants peuvent vider dans la benne du camion via la trappe située sur le toit. La molette permet de transporter de petits objets à travers le broyeur à déchets jusqu'à l'intérieur de la benne à ordures. Pour les objets plus grands, on peut utiliser le bras de préhension mobile pour saisir les déchets à recycler et les jeter dans la benne par le haut. Les filles et les garçons auront beaucoup de choses à découvrir avec les nombreux éléments mobiles et la porte arrière à ouvrir mécaniquement.
Renforcer la sensibilisation à l'environnement par le jeu
Dès le plus jeune âge, les enfants comprennent que les déchets organiques tels qu'une peau de banane doivent être jetés dans une poubelle différente de celle d'un pot de yaourt. En jouant avec le camion poubelle, les enfants consolident leurs connaissances sur la protection de l'environnement pour contribuer un peu à rendre le monde meilleur.
Un jouet haut de gamme Dickie Toys
Avec plus de 50 années d'expérience dans l'industrie, nous savons comment donner de l'inspiration aux enfants de tous âges et les stimuler par le jeu. Même les plus petits commencent très tôt à découvrir et tester les nombreuses fonctionnalités du jeu. Grâce à Dickie Toys, l'enfant entraîne sa motricité et fait également ses premiers pas dans l'initiation à la sécurité routière. Dans sa chambre comme à l'extérieur, l'enfant est assuré de s'amuser avec Dickie Toys !

Warning! Not suitable for children under 3 years due to small parts. Choking hazard!
---
Product details
• Benne à ordures pour enfants - Avec le camion poubelle Dickie Toys, les enfants dès 3 ans peuvent démontrer leur connaissance du ramassage des déchets, qui se transforme désormais en une aventure !
• Vidage de poubelle motorisé - Comme avec une véritable benne à ordures, on fixe la poubelle sur le bras de levage et, en appuyant sur un bouton, la poubelle est soulevée automatiquement puis son contenu est basculé dans la grande benne.
• Bras de préhension mécanique - Avec un peu de doigté, les enfants peuvent utiliser le bras de préhension mobile pour transporter leurs petites voitures ou d'autres objets directement dans la trappe ouverte du camion de recyclage vert.
• Fonctions supplémentaires - En tournant le broyeur à déchets mécanique, on peut charger de petits objets sur le toit du véhicule. Il suffit d'ouvrir le hayon arrière pour faire ressortir tout le chargement !
• Véhicule avec sons et lumières - Les bruits typiques d'un camion poubelle et les voyants d'avertissements jaunes stimulent les enfants de façon ludique. L'engin est fourni avec une poubelle et les piles requises.