---
Sort by:
Top sellers
New
Price ascending
Price descending
Filter
---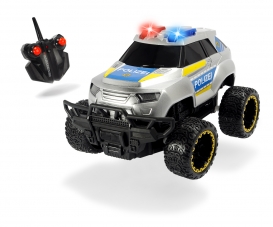 Police
RC Police Offroader, RTR
201104000
€29.99
Always ready with the Dickie Toys Police Offroader! On the trail of law and order there are hardly any obstacles - if the right vehicle comes into play. The Dickie Toys RC Police Offroader with high-performance rubber tires replicates a police car in detail and is ready for action immediately after inserting the batteries. The radio-controlled car features a flashing blue light while driving. Little lawmen can switch the sound on and off directly on the vehicle. At up to 8 km/h, the car with remote control whizzes over many surfaces.  If it should ever hit an insurmountable obstacle, the impact-resistant bumper takes the force out of the collision. Give away the high-quality RC toy with sophisticated technology!
More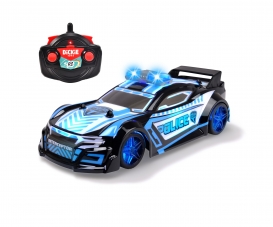 Police
RC Police Interceptor, RTR
201105007
€29.99
Dickie Toys – RC Police Interceptor – with remote control (2.4 GHz; 9 km/h), for children aged 6 and above, remote-controlled police car (22 cm) with entertaining light and sound effects, includes batteries Feature-packed police racing car from Dickie Toys The Police Interceptor can be at the scene in no time – this chic speedster is perfect for action-packed adventures both at home and outdoors. In addition to an intricately detailed design, it also comes with numerous fun features designed to stimulate your child's curiosity. The vehicle can produce three different sound effects, which can be controlled via the top-right button on the remote control. The top-left button can be used to switch off the cool light effects when you want to stay undercover in the dark. The toy vehicle can reach speeds of up to 9 km/h, allowing you to turn almost anywhere into your very own racing course! The set also comes with everything you need to get started – all the required batteries are included with the product. To save battery power, the remote control automatically switches to standby mode after 5 minutes of inactivity. To restart the vehicle, simply switch it off and then back on again. • Toy vehicle with remote control (3-channel, 2.4 GHz) • Capable of speeds of up to 9 km/h • Adjustable light and sound effects • Includes 2x 1.5 V R6 batteries for remote control + 3x 1.5 V LR6 batteries for receiver • 22 cm robust body • Suitable for children aged 6 and above Premium quality toy from Dickie Toys With over 50 years of experience in the toy industry, we know how to entertain children of all different age groups. Even the youngest children can discover and experiment with a wide range of fun features. At Dickie Toys, we aim to train motor skills and introduce the concept of road safety. Whether in your child's bedroom or outdoors, our toys are guaranteed to provide hours of endless fun.
More
New